GOVERNANCE GROUP
"Management is doing things right. Leadership is doing the right things." Peter Drucker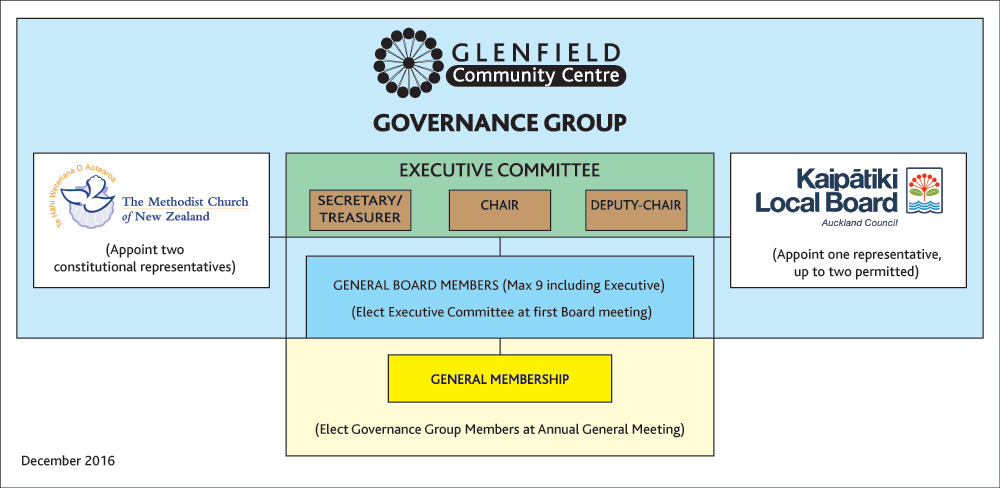 When people talk about governance they're usually talking about the role of the board. Boards exist to ensure an organisation is well-run, and well-governed so that members and stakeholder groups can have confidence in the organisation remaining a going concern and focussed on serving their needs.
Good governance helps an organisation:
Improve performance
Have a defined vision for the future
Take a big picture view of the organisation separate from the operations
Ensure there is accountability and oversight of operations
Manage risk
Find the right balance between making short-term gains and building long-term prosperity
If you are a Member of the Glenfield Community Centre, you are also entitled to put your name forward for consideration to become a member of the Governance Group. Nominations are normally accepted as part of the Agenda for the Annual General Meeting. The Group meets every second month.
For more information on our current Governance Group members, read more below:
2017 – 2018 GOVERNANCE GROUP
Meet the current standing Executive and Members
Frankie Godfrey-Robson: Chair
As Chair of the Governance Group and Executive Committee, Frankie is the most senior elected representative of the Society. She heads both committees and acts as the principal liaison to the Manager. Her position is one of both oversight and setting the direction and goals for the organisation, ensuring it remains relevant, and meets the needs of its stakeholder groups.
Sarah Nilson: Deputy-Chair
Sarah is a long-time local resident; she was born and bred in Beach Haven, her father grew up in Glenfield and her mother grew up in the Birkenhead/Beach Haven area also. She is a part of the Beach Haven Placemaking Group, Glenfield Rotary, and Economic and Social Research Aotearoa (ESRA). Sarah has a genuine love of the community and is committed to its progress. Sarah recently put her love of community in action by standing for the Kaipātiki Local Board. She is also currently studying Speech and Language Therapy at Massey University. Before travelling and working overseas in Korea and Australia for about 4 years, she studied Psychology at Auckland University and was schooled at Birkenhead College. As Deputy-Chair, Sarah is there to step in to the role of Chair in her absence.
Michael Chin: Secretary/ Treasurer
Michael has been a member of the Governance Group for the Centre for over ten years. As Secretary/ Treasurer, he is responsible for ensuring the Society meets its fiduciary responsibilities and as Secretary, he is responsible for maintaining all necessary records associated with the membership and liaising with the Registrar of Incorporated Societies and Charities Commission. He is responsible for calling meetings including the Annual General Meeting, organising minutes, and official communication and is a signatory of the Society.
Brian Ellis: Methodist Church of NZ Appointment
BE Hons, ME (electrical), MIPENZ, MIET, LMIES.
Principal BR Consulting, electrical engineer. Agent for South Island Organ Company maintenance service.
Former Secretary & Treasurer of IPENZ Auckland; Bach Musica NZ; IESNZ; Auckland Organists' Association. Treasurer Glenfield Methodist Church; Deputy Chair Glenfield Community Centre Inc.
Takapuna Methodist Church Property Convener, deputy organist, involved in organ recital promotion and refurbishment of the Takapuna church organ.
Jan Tasker: Methodist Church of NZ Appointment
Jan is one of the two constitutional appointments to the Governance Board from the Methodist Church of NZ.
Stephanie Oh: Governance Group Member
Stephanie Oh completed her Bachelor's Degree at AUT. She completed her placement at the Centre Office as a volunteer and was elected to the Governance Group at the 2015 Annual General Meeting.  Stephanie has since graduated with a Bachelor of Health Sciences majoring in Health Promotion.  She is able to implement elements of her degree working within Refugees As Survivors New Zealand, through their outreach organisation RYAN, otherwise known as Refugee Youth Action Network.
Gary Thornton: Governance Group Member
Besides being on the Governance Group, Gary has worked on the Executive Group for the Glenfield Early Learning Centre. A member of the local business community, Gary has been key in helping raise funding through Ray White of Glenfield.