GOVERNANCE GROUP
"Management is doing things right. Leadership is doing the right things." Peter Drucker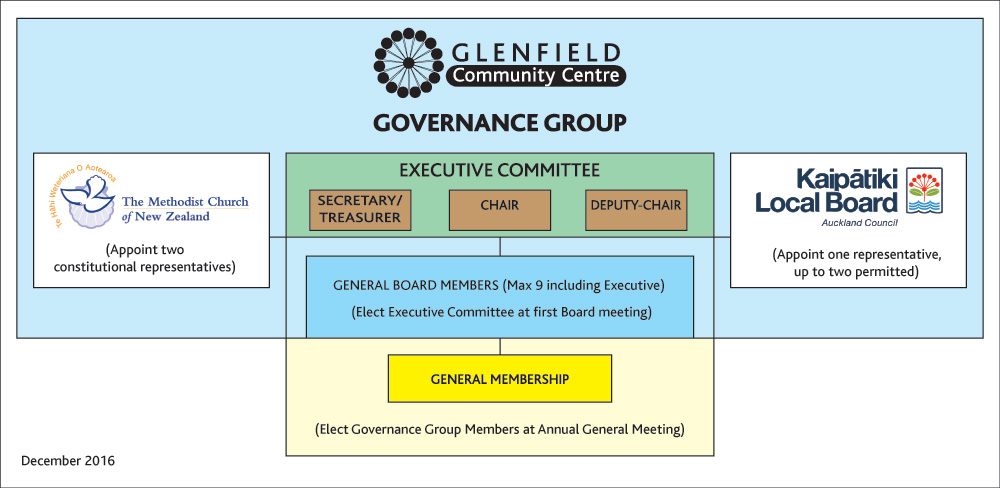 When people talk about governance they're usually talking about the role of the board. Boards exist to ensure an organisation is well-run, and well-governed so that members and stakeholder groups can have confidence in the organisation remaining a going concern and focussed on serving their needs.
Good governance helps an organisation:
Improve performance
Have a defined vision for the future
Take a big picture view of the organisation separate from the operations
Ensure there is accountability and oversight of operations
Manage risk
Find the right balance between making short-term gains and building long-term prosperity
If you are a Member of the Glenfield Community Centre, you are also entitled to put your name forward for consideration to become a member of the Governance Group. Nominations are normally accepted as part of the Agenda for the Annual General Meeting. The Group meets every second month.
For more information on our current Governance Group members, read more below:
2019 – 2020 GOVERNANCE GROUP
Meet the current standing Executive and Members
Sarah Nilson: Chair
Sarah has a genuine love of the community and is committed to its progress. Sarah joined our Governance Group in 2016 and has stepped into the role as Chair after being our Deputy Chair. As Chair of the Governance Group and Executive Committee, Sarah heads both committees and acts as the principal liaison to the Manager. Her position is one of both oversight and setting the direction and goals for the organisation, ensuring it remains relevant, and meets the needs of its stakeholder groups.
 Frankie Godfrey-Robson: Deputy-Chair, Secretary
As Deputy-Chair of the Governance Group and Executive Committee, Frankie is there to step in to the role of Chair in Sarah's absence. As Secretary, she is the principal contact person for the Society's Governance Group, prepares the Agenda for the Annual General Meeting and maintains the membership information. Frankie has been an Executive member for over ten years and 2015 – 2018 Chair.
Craig Pettit: Treasurer
Craig Pettit is a Mortgage Broker and Registered Financial Adviser with Loan Market for the last 10 years. He worked for Westpac for 32 years, has held various managerial positions plus a stint on their audit team. He is a past Treasurer of Willow Park School and Northcote Rugby Juniors. As  Treasurer, he is responsible for ensuring the Society meets its fiduciary responsibilities and presents the audited financial statements at the Annual General Meeting. He is also a signatory of the Society.
Brian Ellis: Methodist Church of NZ Appointment
BE Hons, ME (electrical), MIPENZ, MIET, LFIES.
Principal BR Consulting, electrical engineer. Agent for South Island Organ Company maintenance service.
Former Secretary & Treasurer of IPENZ Auckland; Bach Musica NZ; IESNZ; Auckland Organists' Association.
Current Treasurer Glenfield Methodist Church; Takapuna Methodist Church Property Convener, deputy organist, involved in organ recital promotion and refurbishment of the Takapuna church organ.
Jan Tasker: Methodist Church of NZ Appointment
Jan is one of the two constitutional appointments to the Governance Board from the Methodist Church of NZ. She has been involved with the Methodist Church in a number of roles at Parish level, with the Auckland Synod Executive for 20 years, and nationally.
Jan was Chair of the Board of Ministry from 1997 to 2007, served on the Council of Conference, the Stationing Committee, the Budget Group, and is currently a member of the Law Revision Committee. She was Vice President of the Methodist Church of New Zealand from 2012 to 2014. She has held leadership roles with Girls Brigade, both locally and with the National Executive for 14 years. She was Deputy Principal of Target Road Primary School from 1987 to 2011, where she made a significant contribution to special needs education. She oversaw growth of the department to two dedicated classrooms and was a driving force behind the purchase of a house, which was relocated to the school grounds as the 'Sunshine House' for the special needs department where she trained teacher aides to support the particular needs of the children, who were mainstreamed into classrooms with their peer groups for part of the school day. She received the NZ Order of Merit in the 2018 Queen's Birthday Honours List for services to the community and education.
Gary Thornton: Governance Group Member
Besides being on the Governance Group, Gary has worked on the Executive Group for the Glenfield Early Learning Centre. A member of the local business community, Gary has been key in helping raise funding through Ray White of Glenfield.
Kim Bulluss: Governance Members
Kim has been a teacher of 18 years and an Education Consultant for eight – travelling around schools, mentoring teachers, assessing strengths and needs in school-wide systems and processes, promoting an understanding of cultural diversity. She teaches skills in Mathematics, Leadership and Assessment, has been a Choir Conductor for 25 years organising annual events for school children and teaches at Glenfield Music Centre.